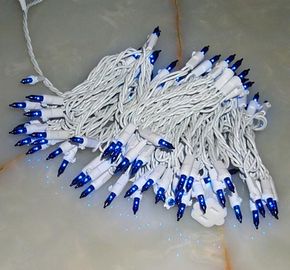 Christmas Lights - Indoor/Outdoor Christmas Lights with Blue Lights and White Wire. Strand of 100 Christmas Lights - Heavy Duty, Super Bright Christmas Lights with 3.5" spacing for Special Christmas Decorating. Set has Socket Lock Feature which holds the Christmas Light bulbs in place. Total length of this Christmas Light Set is 29 feet.

Also available with 2.5" spacing - Total length 21 feet.

This Christmas Light Set is available in Green and White Wire w/ Red, Blue, Green, Amber (Reddish Gold), Clear, Pink, Purple, Yellow, Teal, Chartreuse, Multi-Color, Red White & Blue and Red White & Green Lights.

The Christmas Lights sold by Lone Star Trading Company are Heavy Duty, High Quality, Super Bright, Long Lasting, Display Quality Light Sets - NOT the type of lights that can be purchased at Discount Stores.



Blue Christmas Lights - 100-Light, 2.5" Spacing, 21'
Blue Christmas Lights - White Wire w/ Blue Lights, 50-Light, 6" Spacing
50-Light Set - Additional Colors, 6" Spacing
Lone Star Trading Company


6443 West Main Street Frisco, Texas 75034

(972) 712-1669 or Toll Free 1+ (888) 883-9971

STORE HOURS: TUESDAY - SATURDAY 10:00AM - 5:00PM **************** CLOSED SUNDAYS & MONDAYS ********************

Contact Us Toll Free 1+ (888) 883-9971 or visit us at www.LoneStarTradingCompany.com, FAX Number (972) 712-8814